Upcoming Events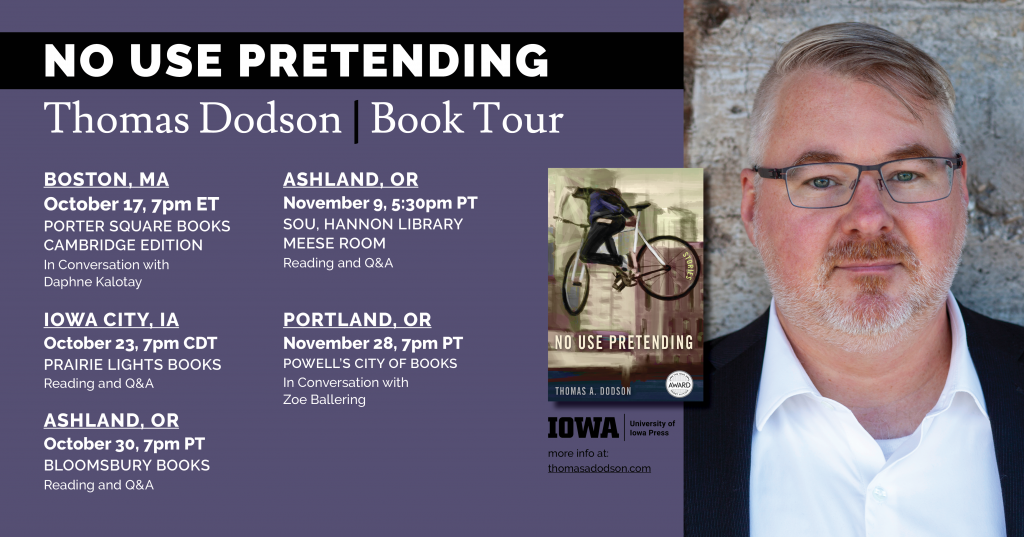 Boston, MA
October 17, 7pm  | In conversation with Daphne Kalotay at Porter Square Books (Cambridge Edition), Cambridge, MA
Iowa City, IA
October 23 | Reading at Prairie Lights Books, Iowa City, IA
Ashland, OR
October 30, 7pm  | Reading at Bloomsbury Books, Ashland, OR
November 9, 5:30pm | Reading and Q&A at Hannon Library, Southern Oregon University, Ashland, OR
Portland, OR
November 28, 7pm | In conversation with Zoe Ballering at Powell's City of Books, Portland, OR
Kansas City, MO
February 7–10, 2024 | Book signing at AWP Conference, Kansas City, MO, University of Iowa Press table.
Press
2023. "An Interview with Thomas Dodson, author of No Use Pretending." Interviewed by Edwin Battistella. Literary Ashland. https://literaryashland.org/?p=11943.
2023. "Iowa Short Fiction Award and John Simmons Short Fiction Award." Iowa Writers Workshop.
2022. "Announcing Our 2022 Contest Winners" The Cincinnati Review.
2020. "A Reading and Conversation with Thomas Dodson: Winner of the 2020 Jeffrey E. Smith Editors' Prize for Fiction." Interviewed by Bailey Boyd. The Missouri Review. YouTube video, 29:24. October 13, 2021. https://www.youtube.com/watch?v=j1tmKTAFWSs&t=1s.
2020. "How does it feel to win the Jeffrey E. Smith Editors' Prize?" The Missouri Review.
2017. "Glimmer Train's Short Story Award for New Writers: September/October 2017" Finalist for story "All at Sea."
Corrigan, Caitlin. 2014. "Online Magazine is a Classy Home for Emerging Authors." The Review Review.
2013. "Six Questions for Thomas Dodson, Founding Editor, Printer's Devil Review." Interview by Jim Harrington. Six Questions for….
Varela, Gabrielle. 2011. "Printer's Devil Literary Journal Launches Tonight." Cambridge Day.